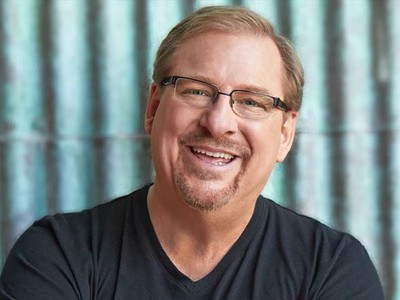 Everyone needs hope. Daily Hope with Rick Warren shares a meaningful message from Scripture, practical and applicable, to encourage, equip and train people to fulfill God's purposes for their life. Listen M-F for your daily hope! www.RickWarren.org

Sponsored By:
---
Pastor Rick Warren is passionate about teaching people to learn, love, and LIVE the Word! Through the Word, he believes people can attack what he calls the five "Global Goliaths" – spiritual emptiness, egocentric leadership, extreme poverty, pandemic disease, and illiteracy/poor education. Pastor Rick founded Saddleback Church in Lake Forest, California, which has grown to over 25,000 members, and has more than 300 ministries to groups such as prisoners, CEOs, addicts, single parents, and those with HIV/AIDS.

Pastor Rick's mission is to provide Daily Hope to listeners through sound Biblical teaching, and he plans to mobilize believers to reach the 2,900 remaining tribes that have not received the Gospel of Jesus. His latest book, The Purpose Driven Life, is about the purpose we find in following Christ, and is the best-selling hardback book in American history, according to Publisher's Weekly.