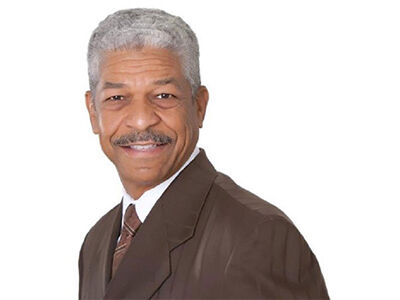 ---
Our Pastor is affectionately known as Pastor "J", has a genuine heart for God's people and a desire to see individuals live out the will of God for their lives. He is a second-generation pastor who received a double portion of the anointing to teach from both parents; our founding pastor, Dr. Joseph A. Mills, Jr. and co-founder Dr. Renée Mills. The irrevocable call to pastor came as no surprise, however; the timing did. Embracing the call to pastor with a humble heart, Pastor "J" was ordained and installed as the pastor of Agapé Embassy Ministries on April 7, 2019 before a welcoming and openhearted congregation.
Pastor "J" grew up in Arlington, Virginia. He graduated from Wakefield High School in 1985. An avid athlete, Pastor "J" excelled in sports; he ran track and played football. After graduation, he enlisted in the Marine Corp. Soon after, in 1987 he married his high school sweetheart Deborah Hall and started a family. Pastor Jerome and Lady Deb have a daughter (Brittney), two sons (Julian and Javan) and two grandchildren (Jazéh and Julian II). A devoted family man, Pastor "J's" close-knit family is blessed to have both sons and their wives (Jasmine and Teia) serving in leadership within the ministry.
Graduating from Agapé Embassy School of Ministry in 2005 only solidified what was already birthed in his spirit years prior; he knew that God purposed him to be a teacher of His word. Pastor "J" then became a teacher within the Agapé Embassy School of Ministry in addition to being a proficient teacher on tithes and offerings which soon led to him ministering the Word of God whenever the opportunity presented itself.
As a dynamic teacher, husband, father and friend, Pastor "J" sees value in everyone he meets. He teaches with simplicity and offers an easy-to-understand overview of God's word. He has a heart for everyone to have a fervent desire to receive God's word and to operate in it. Pastor "J" passionately desires that everyone be in the body of Christ. Aside from pastoring, spending time with family, and being an advocate for health – Pastor "J" enjoys riding his Harley and traveling. Always the encourager, Pastor Jerome leads by example; as tripartite beings he admonishes our congregation to be vigilant over their health, to eat right and to exercise so we can continue to declare the Word of God.